SpaceX plans to fly dozens more downsized "V2 Mini" Starlink low-orbiting internet communications satellites from opposing coasts of the United States tomorrow night, as a pair of Falcon 9 boosters—each with 13 prior missions to their credit—stand ready on Space Launch Complex (SLC)-4E at Vandenberg Space Force Base, Calif., and storied Space Launch Complex (SLC)-40 at Cape Canaveral Space Force Station, Fla. Targeted to launch just 6.5 hours apart, this promises to be the second-shortest interval between pairs of Falcon 9 missions in the program's long and chequered history.
The veteran B1067 core, which first flew in June 2021 and has already flown five times this year alone, will rise first from the Cape's SLC-40 as soon as 9:06 p.m. EDT Sunday, carrying a 22-strong Starlink "stack" to orbit. If the opening T-0 point is missed, there are no less than four backup opportunities between 9:57 p.m. and 12:29 a.m. Monday to get SpaceX's 71st Falcon mission of 2023 airborne. Five additional chances are available the following evening, opening at 8:41 p.m. Monday and closing at 12:03 a.m. Tuesday.
According to the 45th Weather Squadron at Patrick Space Force Base, the outlook for both nights looks highly favorable, hovering around 80 percent tomorrow and 95 percent overnight Monday/Tuesday. "Any real threat for rain chances will end by late Sunday as the boundary moves into South Florida," the 45th noted on Saturday. "Though lower levels will veer out of the north-northwest and tap into a cooler and drier airmass, the mid- and upper-level trough axis will be slower to cross the region.
"With a robust southern stream upper-level jet overhead, southwesterly flow will continue to stream in moisture overhead, leading to ongoing mid- and upper-level cloud cover along with a small threat for post-frontal drizzle," it was added. "Exactly how high and thick this cloud mass manifests will be the main forecast concern, with the potential for thick cloud layer violations going into the primary launch window Sunday night."
If she flies on time tomorrow night, B1067 will become the sixth Falcon 9 to reach a 14th launch. Having entered service in June 2021 to lift the CRS-22 Cargo Dragon for a month-long research stay on the International Space Station (ISS), she went on to deliver eight astronaut from the United States, Germany and Italy to the sprawling orbital complex on Crew-3 in November 2021 and Crew-4 in April 2022, followed by the CRS-25 Cargo Dragon the following summer.
Added to that list, B1067 lofted a geostationary communications satellite for Turkey—which helped set a new record, now broken between pairs of Falcon 9 missions at less than 16 hours—and a pair of O3b mPOWER broadband satellites. Added to that list, she also ferried uphill the Hotbird 13G communications satellite, 244 Starlinks and in June the Satria Very High Throughput Satellite (VHTS), built by Thales Alenia Space for Indonesia's Pasifik Satelit Nusantara (PSN).
Last November, her Hotbird 13G launch marked the first time that SpaceX had executed as many as 50 Falcon 9 missions in a single calendar year. And in January, her 56-strong Starlink "stack" tipped the scales at 38,400 pounds (17,400 kilograms) as the heaviest Falcon 9 payload ever orbited at that time.
In readiness for B1067's forthcoming 14th launch, the East Coast-sited Autonomous Spaceport Drone Ship (ASDS), "A Shortfall of Gravitas", put to sea out of Port Canaveral last Thursday afternoon, bound for a recovery position about 390 miles (630 kilometers) offshore in the Atlantic Ocean. B1067 will ferry its 22 Starlinks—totaling 38,800 pounds (17,600 kilograms)—into low-Earth orbit, with deployment timed for a little past 65 minutes after liftoff.
As little as six hours and 17 minutes later, the B1063 core will launch from Vandenberg's SLC-4E, carrying her own batch of 21 Starlinks, which are expected to tip the scales at around 37,000 pounds (16,800 kilograms). Five T-0 points exist between 12:23 a.m. and 3:46 a.m. PDT Monday, with B1063 expected to alight on the deck of the West Coast-based drone ship, "Of Course I Still Love You" about 8.5 minutes after launch. The ASDS departed Port of Long Beach on Friday and is currently on-station in the Pacific Ocean.
B1063 entered service in November 2020 and went on to log five launches last year and has now flown four times in 2023. Key payloads included NASA's Sentinel-6 Michael Freilich and Double Asteroid Redirection Test (DART), five Iridium NEXT global mobile communications satellites, 16 advanced broadband satellites for London, England-based OneWeb, over 400 Starlinks, a second tranche of Transport and Tracking Layer (TTL) satellites for the Space Development Agency (SDA) and April's 51-payload Transporter-7 "rideshare" mission.
Deployment of B1063's 21 Starlinks is anticipated at 62 minutes into the flight, raising to 65 the total number of these flat-packed internet satellites launched from opposing coasts of the United States in under a week. More than 1,500 Starlinks have been launched so far this year aboard 43 Falcon 9 flights.
The V2 Minis, first flown in February, boast three to four times greater "usable" bandwidth than earlier Starlink iterations. "V2 Minis include key technologies—such as more powerful phased-array antennas and the use of E-Band for backhaul—which will allow Starlink to provide 4x more capacity per satellite than earlier iterations," SpaceX explained. "Among other enhancements, V2 Minis are equipped with new argon Hall thrusters for on-orbit maneuvering."
As a network, Starlink facilitates high-speed and low-latency internet provision to over 60 sovereign nations and international markets in North and South America, Europe, Asia, Oceania and Africa. In July alone, Cyprus, Guatemala, Kenya, Malaysia and Malawi have signed up to the network and the Bahamas came online in August.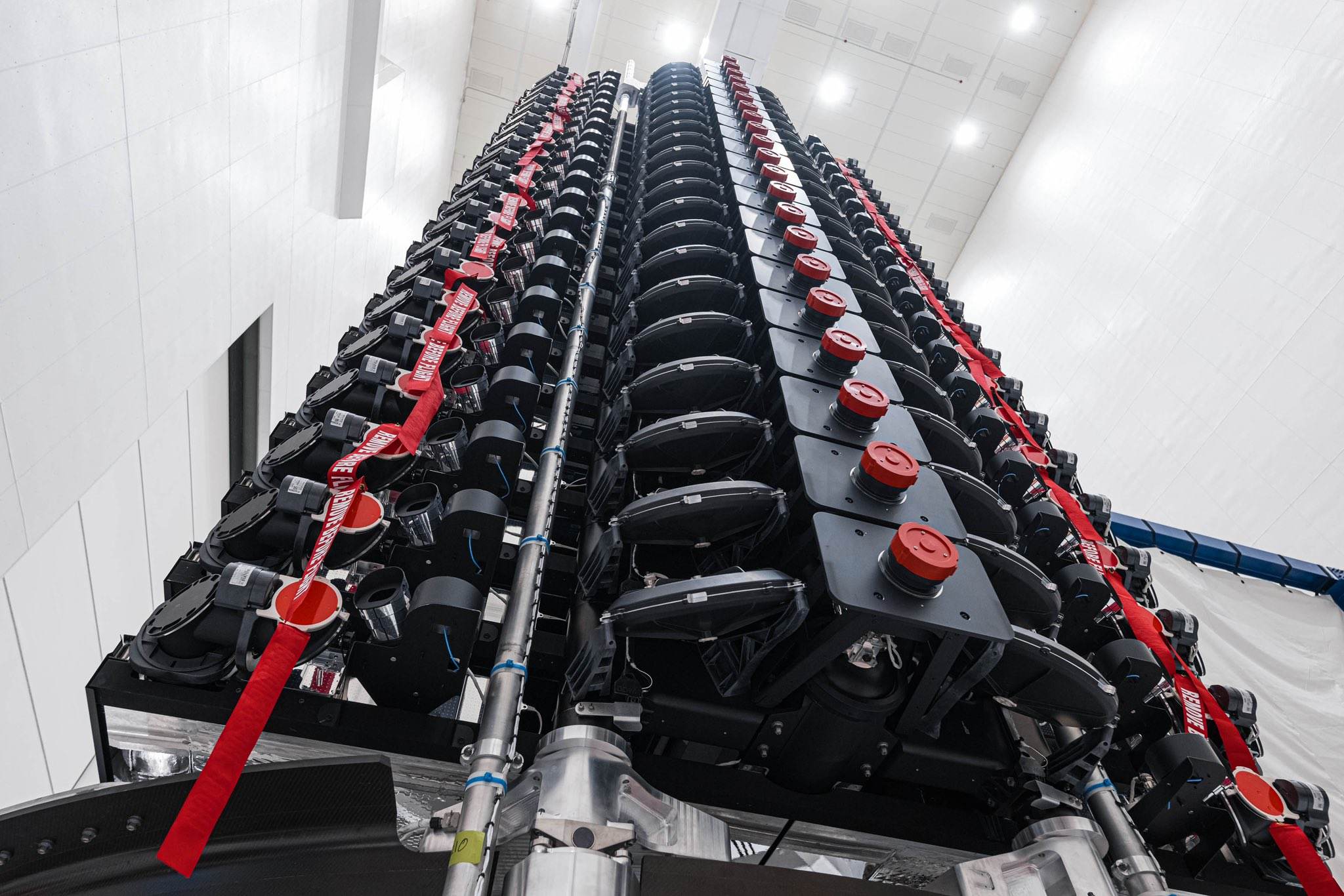 Florida-based intercity operator Brightline adopted Starlink on its trains earlier in 2023, the first passenger rail service in the world to do so. Additionally, El Salvador's Ministry of Education has begun integrating Starlink capability into its schools to help close the digital divide between urban and remote rural communities and 50 Rwandan schools are now connected via Starlink's high-speed internet service.