SpaceX has successfully completed its 80th mission of the year in 2023's 45th week, as an 11-times-flown Falcon 9 booster rose ponderously from storied Space Launch Complex (SLC)-40 at Cape Canaveral Space Force Station, Fla., laden with a new 23-strong batch of Starlink internet communications satellites. Less than nine minutes after launch, B1073 pirouetted to an on-point touchdown on the deck of the Autonomous Spaceport Drone Ship (ASDS), "Just Read the Instructions", situated offshore in the Atlantic Ocean.
Eighty flights—76 by the "single-stick" Falcon 9 and four by the triple-barreled Falcon Heavy, most recently last month—brings SpaceX ever closer to its vaunted goal of as many as a hundred missions before New Year's Eve, already greatly eclipsing its previous personal best of 61 launches attained at the end of 2022. That equates to a launch every 3.9 days or so, a substantial uptick on 2022's average of one flight per 5.9 days.
Fifty-three of those missions have lofted more than 1,750 flat-packed Starlinks to orbit, with others delivering ten geostationary communications satellites, U.S. Space Force and Space Development Agency (SDA) payloads, three Transporter "rideshares"—totaling over 200 discrete customer cargoes—and three crew-carrying and two cargo-carrying Dragons to the International Space Station (ISS). A third Cargo Dragon of the year, CRS-29, is up next, targeting liftoff from historic Pad 39A at the Kennedy Space Center (KSC) no earlier than Thursday evening, laden with 6,500 pounds (2,950 kilograms) of food, equipment and supplies for the space station's incumbent Expedition 70 crew.
Weather for last night's launch was near-perfect, with the 45th Weather Squadron at Patrick Space Force Base devoting just a few lines—"light winds and lots of sunshine"—to its published forecast and a 95-percent likelihood of acceptable conditions for both primary and backup dates. Only a slight chance of violating the Cumulus Cloud Rule stood in the way of getting the veteran B1073 off the pad on time.
Meanwhile, the ASDS put to sea out of Port Canaveral last week, bound for a recovery position some 390 miles (630 kilometers) offshore in the Atlantic Ocean. With eight T-0 points running from 11:31 p.m. EST Tuesday until 2:59 a.m. EST Wednesday, SpaceX teams ultimately opted for the second opportunity a few minutes past midnight.
Without further ado, at 12:05 a.m. EST B1073 sprang into the darkness, the glare of her nine Merlin 1D+ engines momentarily turning night into day across the sleeping Space Coast. Two and a half minutes later, in a process now so familiar as to have become almost routine, she separated from the stack and pirouetted to a smooth, on-point touchdown on JRTI's expansive deck, marking her tenth drone-ship landing to date across 11 missions.
B1073 entered service in May 2022 and with last night's flight has lofted a grand total of 274 Starlinks into orbit, as well as the SES-22 and Amazonas Nexus geostationary communications satellites and a lunar-bound mission with Japan's Hakuto-R Moon lander, the United Arab Emirates (UAE) Rashid rover and NASA's water-ice-seeking Lunar Flashlight. Last March, on her seventh mission, she became the most flight-seasoned Falcon 9 ever to lift a payload—human or cargo—to the ISS with the CRS-27 Cargo Dragon.
Sixty-five minutes into last night's mission, the 23-strong payload of Starlinks, totaling 40,600 pounds (18,400 kilograms), was successfully deployed, bringing to more than 1,750 the total number of these flat-packed internet communications satellites flown so far in 2023. As a network, Starlink facilitates high-speed and low-latency internet provision to over 60 sovereign nations and international markets in North and South America, Europe, Asia, Oceania and Africa.
The Starlink "V2 Mini" satellites, first flown in February, boast three to four times greater "usable" bandwidth than earlier Starlink iterations. "V2 Minis include key technologies—such as more powerful phased-array antennas and the use of E-Band for backhaul—which will allow Starlink to provide 4x more capacity per satellite than earlier iterations," SpaceX explained. "Among other enhancements, V2 Minis are equipped with new argon Hall thrusters for on-orbit maneuvering."
As a network, Starlink facilitates high-speed and low-latency internet provision to over 60 sovereign nations and international markets in North and South America, Europe, Asia, Oceania and Africa. The Bahamas came online in August and Zambia became the sixth African nation to sign up to the network last month.
Florida-based intercity operator Brightline adopted Starlink on its trains earlier in 2023, the first passenger rail service in the world to do so. Additionally, El Salvador's Ministry of Education has begun integrating Starlink capability into its schools to help close the digital divide between urban and remote rural communities and 50 Rwandan schools are now connected via Starlink's high-speed internet service.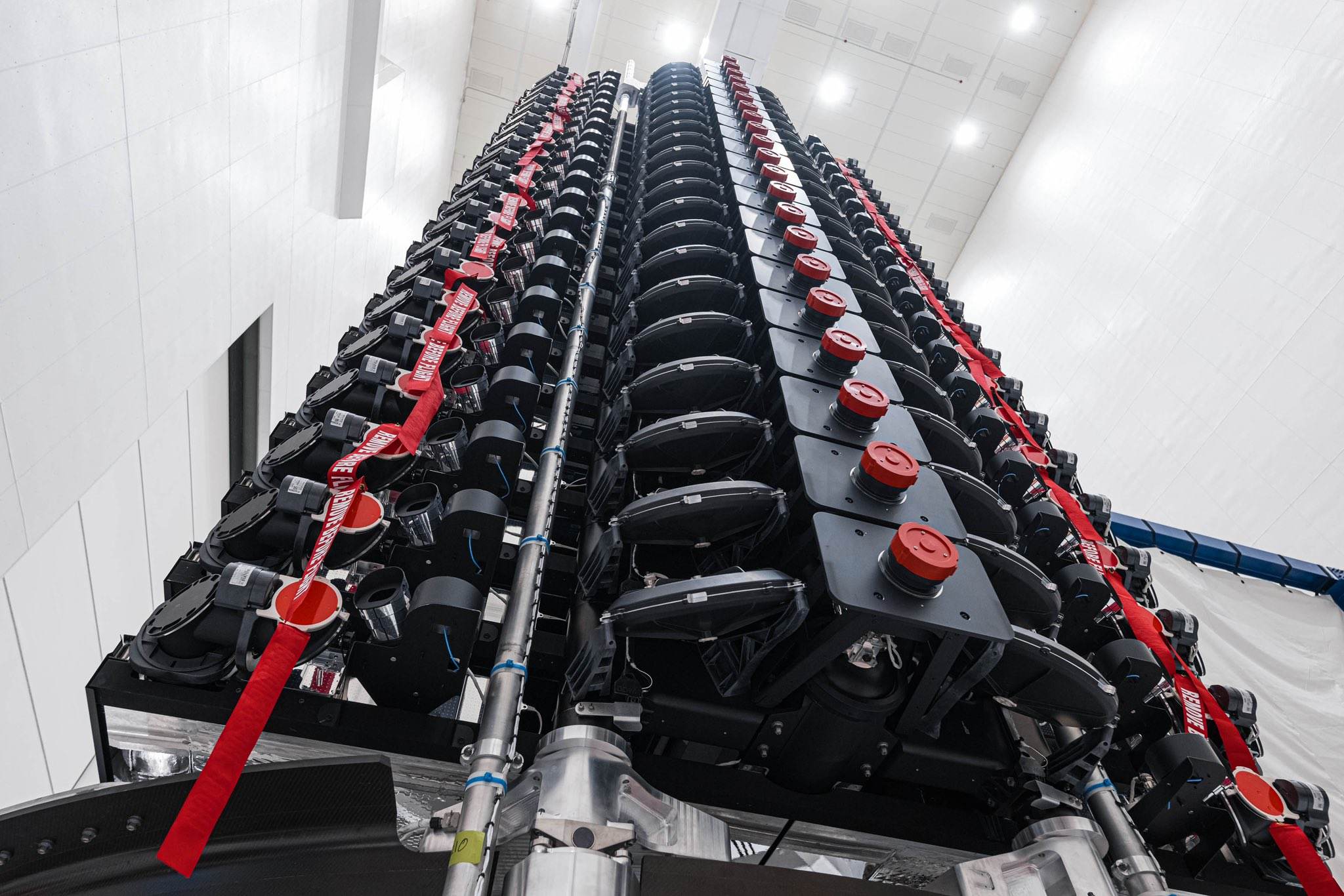 Attention now turns to neighboring Pad 39A, where a once-before-used Cargo Dragon awaits liftoff no sooner than 8:28 p.m. EST Thursday. An on-time launch is expected to produce an autonomous docking at the forward port of the station's Harmony node at 5:21 a.m. EDT Saturday, where CRS-29 will remain for about a month.
Launch of the cargo-laden mission has already been delayed a couple of times, firstly from 1 November, then the 5th and more recently since the 7th, to allow SpaceX teams to configure Pad 39A from its recent Falcon Heavy duty, as well as attend to final CRS-29 payload issues and replace a leaky Draco thruster aboard the Cargo Dragon. "During the initial propellant load," NASA noted earlier this week, "teams identified a leak of nitrogen tetroxide oxidizer in a Draco thruster valve, which per standard procedure required a pause to the operation to troubleshoot. The team inspected the valve and respective data and decided to replace the thruster."
Aboard the ISS, the Expedition 70 crew—Commander Andreas Mogensen, a European Space Agency (ESA) astronaut and the station's first Danish skipper, together with NASA's Jasmin Moghbeli and Loral O'Hara, Japan's Satoshi Furukawa and Russian cosmonauts Oleg Kononenko, Konstantin Borisov and Nikolai Chub—are making final preparations for their new robotic arrival. Mogensen recently took time "staging" gear for return to Earth aboard CRS-29 in December and late last week Moghbeli and O'Hara reviewed approach and rendezvous procedures, in preparation for their role monitoring the Cargo Dragon's arrival at the weekend.